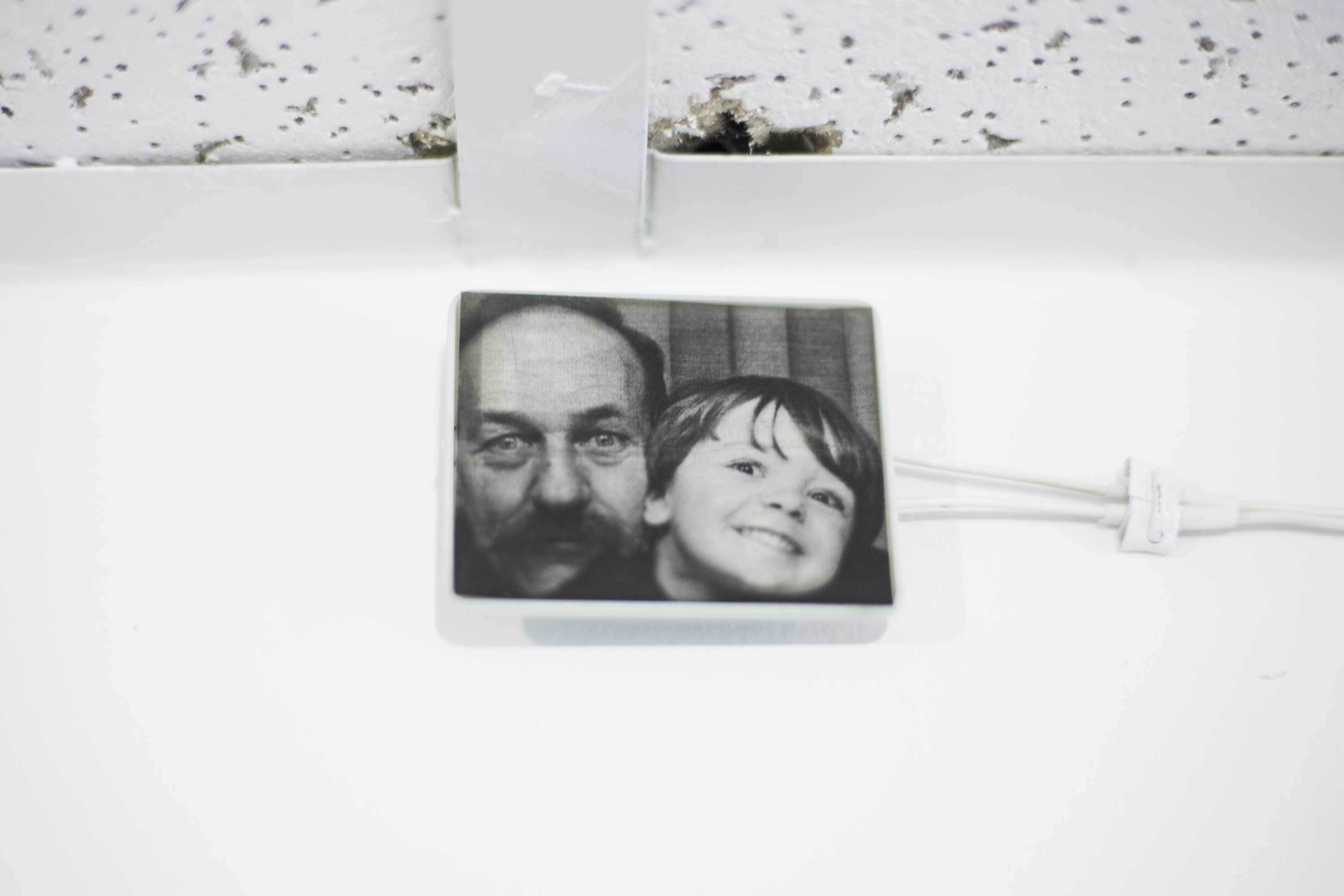 Installation
Lumières électroluminescentes, impressions laser sur acétate, fils électriques.
GHAM & DAFE, Montréal, QC
2017

Veilleuses fut réalisée dans le cadre de l'exposition collective Quelques parts, présentée à GHAM & DAFE). Suite à un travail de collaboration avec les artistes exposants, un réseau de lumières fut installé en hauteur, sur tous les murs de la galerie.

Devant chacun des dispositifs se trouve une photographie d'enfance chère à chacun des artistes. Ces images incarnent des souvenirs de lieux, de personnes; des moments figés dans le temps. Le circuit est activé pendant les heures de fermeture de la galerie. La nuit tombée, les clignotements émis par les écrans électroluminescents habitent l'espace, agissant comme présence à l'intérieur du lieu vide.


Artistes participants

Camille Blachot
Philippe Chiasson
Évelyne Comtois
Gabrielle Dagenais
Vincent Daoust
Claire Desjardins
Simon Gauvreau
Samuel Graveline
Raphaëlle Groulx-Julien
Mélodie Jetté
Miguel St-Laurent
Myriam Simard-Parent

Installation
Electroluminescent lights, laser prints on acetate, electric wires.
GHAM & DAFE, Montréal, QC
2017

Veilleuses was produced as part of the group exhibition Quelques parts, presented at GHAM & DAFE. After collaborating with the exhibiting artists, a network of lights was installed high up on the walls of the gallery.

On the surface of each device is a childhood photograph dear to each of the artists. These images embody memories of places and people, moments frozen in time. The circuit is activated during the gallery closing hours. At night, the flashes emitted by the electroluminescent screens inhabit the space, acting as a presence inside the empty space.


Collaborating artists
Camille Blachot
Philippe Chiasson
Évelyne Comtois
Gabrielle Dagenais
Vincent Daoust
Claire Desjardins
Simon Gauvreau
Samuel Graveline
Raphaëlle Groulx-Julien
Mélodie Jetté
Miguel St-Laurent
Myriam Simard-Parent